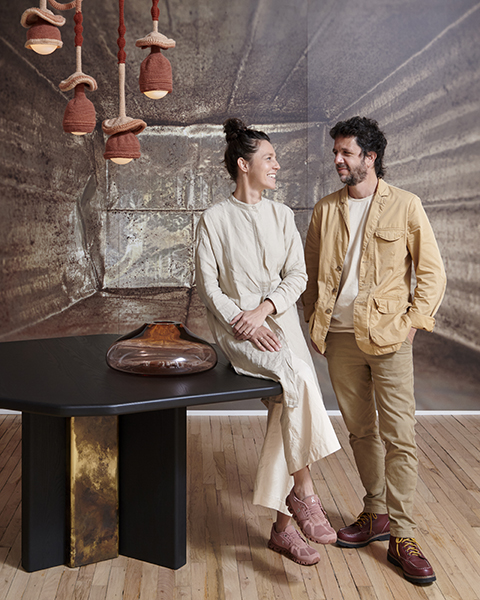 The exhibition Manual Dialogues welcomes Brazilian design studio TomaziCabral's, an exhibition as much about the process of collaboration as it is about the remarkable handcrafted statement pieces that are the result. The Fluxo collection of lighting provides the show's focal point. In creating these beautifully tactile lighting installations, Nicole Tomazi and Sergio Cabral held an open call to recruit seven crochet enthusiasts and one lighting designer from cities across Brazil. While the pair identified a palette, designated a crochet stitch, and supplied yarn, they kept the brief open to see what would emerge from the inventive process and participants.
"We used a freestyle way of working," Cabral explains. "Each person started a piece and then sent it in the mail to the next person, who would receive a piece and do whatever they wanted, whatever they felt they needed to do." To eliminate their own influence over the direction of the work, Tomazi and Cabral had no interaction with the makers over the four-month production period. "We wanted to see the work of everyone," he says, "and see what new directions the members of the group would bring."
In Brazil, it is not unusual for a design studio to create a product template and then commission handicraft artisans to reproduce it in quantity. Fluxo breaks that mold by letting collaborative evolution take over with no fixed idea of the eventual object in sight. Participants Camila Bernadeli, Cristiana Bertolucci, Ian Diesendruck, Isabel Muxfeldt, Marcella Sotratti, Thainá Dluglosz, and Vera Skitnevsky were agents in both the design and execution of the handcrafted pieces.
"This is not a top-down project where artisans are producing something for us," Tomazi affirms. "This is the first experience that we have had of this blind process where the pieces grew as an expression of each of the participants of the group. The result for us is something really new."
Alongside Fluxo, the show will also feature a series of unique pieces from TomaziCabral's Psilo collection. Envisaged as a garden of shapely glass mushrooms includes vases and tables made one by one from hand-blown glass. The nuanced color saturation of each object – a result of both process
and raw material – speaks to TomaziCabral's free-spirited, exploratory approach and commitment to allowing nature to take its course. On the walls, prints and paintings by a selection of Brazilian artists – Manoela Medeiros, Lucia Koch, and Amelia Toledo – round out the show.
Salon founder, Amanda Pratt is "thrilled to have the opportunity to introduce the collectible design practice of Tomazicabral to the US art and design community. Nicole and Sergio are at the forefront of the new wave of Brazilian contemporary makers. Their work will definitely have a place in the lexicon of Brazilian design."
Manual Dialogues is open to the public from September 22 through November 16th.