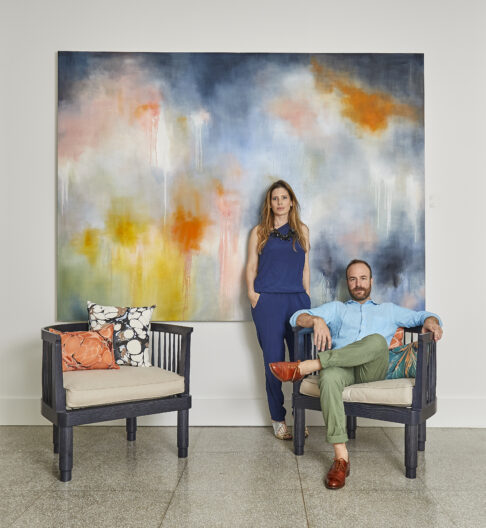 Navigation
Navigation brings together a group of creatives whose studio practices push the boundaries of materiality to create one of a kind work in their respective fields.
Artwork by Michel Droge—an abstract painter and printmaker living and working in Portland, Maine—cover the walls. Michel's work and research implicates the relationship between the environment and its living creatures. Six large scale original oil paintings place the viewer in the midst of global climate change and environment upheaval.
Also featured is the Rhode Island-based O&G Studio. Navigation marks the debut of Inlet, a new seating collection. Both easygoing and rigorous in design, the collection's forms are defined by generous proportions, crisp lines, and delicate spindles, which are completed by cushions and upholstery in rich leather and linen textiles accented by bold marbled textiles from Rule of Three.
Karen Gayle Tinney of Long Beach, CA, shares three original large scale art pieces. Her passion for mixed material design and interest in fiber art is apparent within the new pieces, as the ceramic components are hand built then assembled together with fiber counterparts.
Lastly, three interactive hanging sculptures from Noble Goods—based out of Brooklyn, NY— round out the vibrant assortment. Molly FitzSimons and Christopher Moore make up Noble Goods and have perfected the process of seamlessly combining concrete, wood, and resin.
Photos by Angel Tucker.